0 ratings
The Iron Press
100% Local
3321 Hyland Ave., suite E




Costa Mesa

, CA

92626

(view map)
Details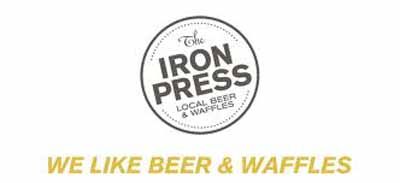 The Iron Press in Costa Mesa is serving up scrumptious savory and sweet waffle sandwiches. Along with our waffles, we offer 30 specialty local and imported delicious beers on tap that compliment every taste and every entree.
We are focused on slinging out fresh ingredients, and working with our local community to create a fun and interactive dining experience!
We want our space to be very organic and open. We want a free flowing environment where people are invited to cheers one another, strike up a quick chat, cheer on your favorite sports team, meet new people, walk around, enjoy the music, the art, the food, and the libations.
During the building process, we used as much recycled material as possible, from recycled concrete to repurposed wood. Come and check it out in person!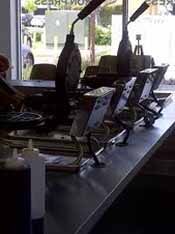 From the Local Media:
From Fast Food Maven by Nancy Luna – Costa Mesa center launching waffles & beer shop:
From OC Retail by Hang Nguyen – Haven't been to SOCO? It's time to visit:
The Iron Press takes pride in striving to be among the leading restaurants of its kind in Orange County. Though we are in our mere infancy in comparison to many other restaurants, we are committed to providing our customers with fresh quality ingredients and outstanding service. Customers appreciate our employees' attention to detail and the knowledge of our products that they all devote to their jobs. Our customers have come to expect a high level of service from our staff on every one of their visits to the establishment.
Hopefully, we can keep the steam going and continue to spread the word! Try us out if you are tired of the same old thing!!
Cheers