0 ratings
The Harp Inn
100% Local
130 E 17th St. #A




Costa Mesa

, CA

92627

(view map)
Details

Home is where The Harp is!!
The Harp Inn is a true Irish pub nestled in the heart of Costa Mesa that has been a local favorite since 1988. If you haven't been in before, do come on by! Our lunch and dinner menus feature traditional dishes including Shepard's Pie, Corned Beef and Cabbage, Bangers, Beans and Mash, as well as juicy Chops, Steaks and all the classic "pub food" you'd hope to find. We also have a wide variety of beers and Irish whiskeys to be sampled don't you know, and our smoker-friendly patio is one of the best appointed in town for year-round enjoyment.
Whether it's a business lunch, an after-work cocktail or pint, dinner on your way to the theater, coffee and dessert afterward, a banquet to celebrate a special occasion, or anything else in between, The Harp Inn's hospitality is sure to leave you with a warm and welcome impression.
Live Music, Thurs, Fri, Sat, and Sunday Afternoon
Pick your night to come in, kick back and enjoy a pint or two at the Harp Inn, Costa Mesa.
All Live acts begin at 9:30pm unless otherwise stated.
Draft:
In 20oz glass... because size matters!
Guinness - Harp - Smithwicks - Newcastle - Stella Artois - Blue Moon - Coors Light - Kilkenny - Belgo IPA - Magners Cider
Bottled:
Heineken - Corona - Miller Light - Budweiser - Bud Lite - Coors Light - Amstel Light - O'Douls - Michelob Ultra - Hoegaarden Ale - Smirnoff Ice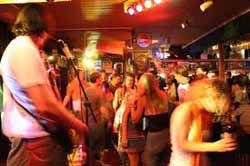 Wines:
Selected Chardonnay - Cabernet - Merlot
Champagne:
Full range of spirits and craft cocktails
Including specialties like our Irish Coffee with fresh whipped cream
*Irish Breakfast served all day!!
The Harp Inn is a perfect venue for parties, fundraisers and functions of all kinds. We can provide catering services for virtually any occasion and even provide the Music too!
Call us to book your Party!