0 ratings
Seasons 52
100% Local
3333 Bristol St. #2802




Costa Mesa

, CA

92626

(view map)
Phone:
(714) 437-5252
Website:
http://www.seasons52.com/
Hours:
Mon-Thu, 11:00am – 10:00pm
Fri-Sat: 11:00am – 11:00pm
Sun 11:00am -9:00pm
Social Media
Details

At Seasons 52 in Costa Mesa, we pride ourselves on offering our guests seasonally-inspired dining choices expertly designed to excite and surprise the palate. An award-winning international wine list featuring diverse wine selections personalize the dining experience while knowledgeable, approachable service that inspires confidence. we offer a casually-sophisticated adult ambiance that feels warm and inviting.
Celebrate in style with Corporate, Group & Event Dining at Seasons 52!
Our Menu
The Seasons 52 menu's fresh appeal of the local farmer's markets is omnipresent. Our menu represents a unique blend of art and science, with creative offerings designed to excite and surprise the palate. We feature dining choices that are thoughtfully prepared in appropriate portion sizes so that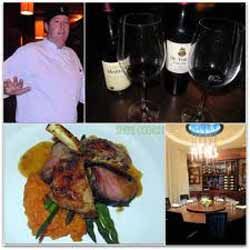 our guests feel the freedom to indulge in a complete dining experience, including our custom flatbreads and signature mini-indulgence desserts, while still feeling good about themselves and their dining choices.
We use natural cooking techniques such as wood-fire grilling, brick-oven cooking and caramelizing vegetables to let the natural flavors shine through. We execute precision in our seasoning, and oils are used with control and care to ensure just the right amount to bring out the great flavor profiles. An added benefit to this style is that our menu items are naturally lower in calories. In fact, we make a promise that nothing on our menu is over 475 calories. The result is great tasting, highly satisfying food that just so happens to be good for you!

Our Master Sommelier and Certified Wine Educator, George Miliotes travels the world in search of very special selections for Seasons 52's list. He visits South Africa annually to custom blend Indaba Chardonnay for the U.S. market and Seasons 52. Remarkably, Wine Spectator gave Indaba 2007 an 86 rating, yet it is by all accounts an inexpensive wine. Seasons 52 features Indaba as its entry level Chardonnay. Seasons 52 features George's wine finds seasonally with "George's Picks" and the "Drink Them Before They Become Famous" list, a carefully crafted list to introduce guests to new wines at a reasonable price point.
The Seasons 52 wine list is defined by quality coupled with great value, and a unique wine by-the-glass program that encourages guests to make adventuresome choices, mixing and matching the wines they order with each course of their seasonally inspired meal. There is no worry about the expense of selecting the "wrong" bottle for the table. At any time, the restaurant has 60 wines available by the glass for guests who want to sample something new.