0 ratings
Pizzeria Ortica
100% Local
650 Anton Blvd, Suite J




Costa Mesa

, CA

92626

(view map)
Phone:
(714) 445-4900
Website:
http://www.pizzeriaortica.com/
Hours:
Monday – Friday Lunch: 11:30am-3:00pm
Monday – Sunday Dinner: 5:00pm-10:00pm
Social Media
Details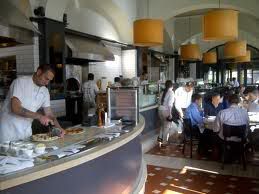 Chef David Myers has a passion for Neapolitan-style pizza and the rich, rustic flavors found in southern Italy—succulent antipasti, vibrant salads, hand-made pastas and wood-fired pizza. Traditional cooking techniques are paired with fresh, locally sourced ingredients plus select wines and artful cocktails.
We combine traditional techniques (everything is hand-made) with local artisanal ingredients. Featuring an 800-degree wood burning oven, the menu recreates classic Italian favorites—antipasti, pasta, pizza, gelato and more. Friendly service, a comfortable setting and convenient location have made Pizzeria Ortica a popular destination for locals and tourists alike.
Cooking Classes
Learn how Chef Justin creates Pizzeria Ortica's signature dishes. Each class we will feature instructions on a different area of our menu. Learn the basics of pizza and pasta making in a hands-on, interactive environment. You will be in our kitchen making pasta from scratch and learning the basics of making pizza in a wood-fired oven. Class will be followed by a meal with our Chef and paired with the perfect glass of wine!
$75 per person (plus tax)
Each class will be limited to 8 aspiring chefs
Private Events
Consider bringing your guests to Italy at South Coast Plaza for your next office party, holiday gathering, or special event. Pizzeria Ortica hosts private events for up to 30 in our Garden Room, which has a separate entrance and is large enough to accommodate audio/visual equipment for presentations. For grander occasions, our entire restaurant can be booked and seats 140 guests.
Amanda Mendoza would be delighted to help you organize your event.
*Complimentary 2-hour parking with validation is available in the Plaza Tower parking structure behind Pizzeria Ortica.