0 ratings
Outer Limits Tattoo & Piercing
100% Local
The CAMP , 2981 Bristol St. #B-4




Costa Mesa

, CA

92626

(view map)
Details

Meet exceptional artists with decades of experience!
Outer Limits Tattoo and Body Piercing is a specialty tattoo and piercing company offering tattooing and body piercing by some of the most informed and talented professionals in Southern California. With resident artists and numerous guest artists from all over the world, all styles of work in large or small formats can be created.
If you're looking for a studio that gives you the best quality service on your unique piece, Outer Limits Tattoo & Piercing is where you want to be. We're proud of our Long Beach Store's legacy as the "Oldest Tattoo Parlor in The United States", and we respectfully preserve and reflect those same values and quality that lives on with our artists in all of our stores.
Customer attention and service is the framework for our philosophy, as we provide award winning artistic tattooing in a relaxed, state of the art environment. All of our clients receive personal attention, no matter how large or small the design, from both male and female artists.
Tribal Tattoos - Polynesian Tattoos - Portrait Tattoos
Cover-up Tattoos - Black & White Tattoos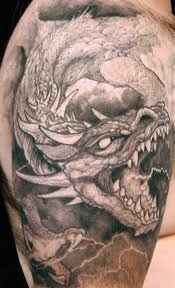 Our Other Locations:
Long Beach, CA, "Oldest Shop in the USA"
Sun-Thurs 11-9, Fri and Sat 11-11
125 N. Tustin Ave., Ste. G
11am - 9pm, Sun to Thurs, 11-11 Fri Sat