0 ratings
Onotria Restaurant
100% Local
2831 Bristol St




Costa Mesa

, CA

92626

(view map)
Phone:
(714) 641-5952
Email:
[email protected]
Website:
http://www.onotria.com/
Hours:
Mon – Thu: 11:30am to 2:30pm
Dinner: 5:30pm to 10:00pm
Friday: 11:30am to 2:30pm
Dinner: 5:30pm to 10:30pm
Saturday: 5:30pm to 10:30pm
Sunday: 5:00pm to 9:00pm
Social Media
Details
The name "Land of Vines" was given to the South of Italy upon its discovery by the Greeks, for it's great expanse of vines across its rich & fertile country sides to seaside cliffs along the coast. Master Chef Massimo Navarretta was raised farming & making wine at its heart, the region of Campania. At Onotria, savor the gastronomy & oenology of wine producing regions of the world.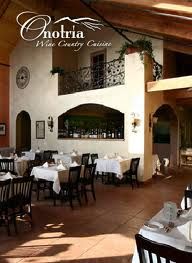 It's the the little touches that surprise at Onotria, a rare Cal-Italian wine country restaurant with a full bar in Costa Mesa's SoBeCa district. Rich woods in the soaring open dining room are offset by a faux balcony upstairs delightfully decorated with a seemingly patina-aged wrought iron balustrade. Sit near one of the big picture windows; you'll have a view of master chef and owner Massimo Navarretta's green and bountiful garden and vineyard. The menu reflecting the finest cuisine goes on and on with a meticulous catalog of salads and entrées, as well as cheese and charcuterie plates paired with wine suggestions. Farm fresh local produce even includes that which is grown on our very own property.
Diners encounter a combination of fine ingredients, well-chosen wines and personal service by Navarretta himself, who glides around the room, at times pouring wine and even bursting out into Italian song. The seasonal menu here takes diners on a global journey to such tastes as plump grilled tiger prawns served over sweet and hot fire-roasted Anaheim peppers and a tender filet mignon in a tangy and full-bodied blueberry-Cabernet reduction. Gluten free Italian cuisine is easily accomodated. The servers, most of whom are well-trained Italians, deserve some kudos as they enhance the experience with their down-to-earth charm and high standards. For the best in Costa Mesa dining, spend an evening with us at Onotria in Costa Mesa!
Private Dining & Special Events
AMARONE ROOM
- 60 guest maximum, Formal Seating
- 85 guest maximum, Reception Style
MERITAGE ROOM
- 25 guest maximum, Formal Seating

CATERINGS - FOOD & WINE PAIRING EVENTS - PRIVATE WINE CELLAR SHOWCASES