0 ratings
Marche Moderne
100% Local
At South Coast Plaza , 3333 Bristol St. #3001




Costa Mesa

, CA

92626

(view map)
Phone:
(714) 434-7900
Website:
http://www.marchemoderne.net/
Hours:
Mon-Sun 11:30am – 2:30pm
Mon-Sat 5:30pm – 9:30pm
Sunday 5:30pm – 8:00pm
Social Media
Details

MARCHE MODERNE
Driven by a passion for market-inspired ingredients and classic French cooking techniques, Florent and Amelia Marneau have created a truly modern French bistro in the heart of Orange County. For decades, the couple worked separately in some of the best kitchens in France and Orange County. With Marché Moderne, they have followed this natural evolution by combining their culinary careers as independent restaurateurs.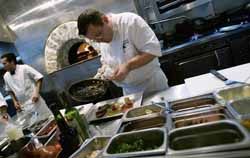 Florent and Amelia enjoy integrating extremes: urban and rustic, simple and sophisticated, modern and traditional. So, guests find the restaurant's food and décor a pleasing juxtaposition of the old and the new. The food at Marché Moderne is a reflection of the world's best artisan-made products and Southern California's local farm-fresh fruits and vegetables.
Located at The Penthouse at South Coast Plaza, Marché Moderne is decorated to make guests feel as if they were sitting in a cozy, yet urban French bistro in one of the world's most cosmopolitan cities such as Paris or New York City. Classic features include wood plank floors, ancient stone accents, white linens and dark wood French doors, which open up to a rooftop patio. Against this charming backdrop, the restaurant has modern accents: minimalist white lighting, artistic floral displays and Italian patterned silk banquettes.
Marché Moderne translates as "modern market" and this perfectly describes the cuisine at this cosmopolitan French bistro. It's the place to find such bistro classics as artisan-made cheese and charcuterie plates, along with moules frites, steak frites l'echalote, cold foie gras torchon and oysters du jour.
DINNER MENU
In France, bistro food can be a very economical, so we bring this tradition to Orange County with our three-course prix fixe "Spontanée" menu. On a daily basis we offer a brand new first course (usually a refreshing salad), two main courses (from which to choose) and, at meal's end, one of Amelia's seasonal-inspired desserts.
THE WINE LIST
Located at The Penthouse at South Coast Plaza, a rather intimate and quiet space on the plaza's third level, the restaurant also has access to a marbled terrace. This public space can be transformed into a lively reception space for cocktails and hand-passed hors d'oeuvres before your guests step into the patio or the main dining room. The terrace, patio and main dining room are also available on a "restaurant buy out" basis for a maximum of 130 guests. Chef Florent Marneau loves to delight guests and expose them to something new. Then, he works with you and wife Amelia to produce your event's special tasting menu.
Restaurant critics unanimously praise Marché Moderne for its fine French bistro fare, attentive service, urban chic décor and unparalleled South Coast Plaza locale.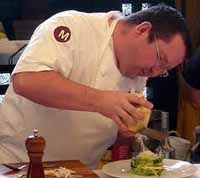 "3 stars…this is probably the best bistro in Southern California."
- S. Irene Virbila, Latimes.com | Read Review
"…(Amelia's) desserts have such a light and fresh finish that you almost believe they are healthy. Now that's genius."
- Sheryll Alexander, Luxveria Magazine and Gayot.com | Read Review
"…one of the freshest, finest French bistros around."
- OC Weekly | Read Review
EVENTS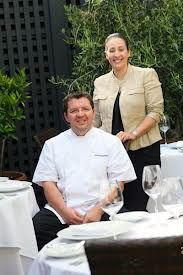 Marché Moderne happily hosts a large variety of events from business dinners to pharmaceutical programs to those important personal celebrations such as bridal and baby showers, birthdays, rehearsal dinners and wedding receptions. Chefs Florent and Amelia Marneau, create truly memorable experiences for groups with special tasting menus, fine wines and handcrafted cocktails.
Most private parties are held in the restaurant's charming enclosed patio area, which has an outside entrance, retractable awnings and can accommodate up to 75 guests seated and 85 guests standing. The patio has classic and modern accents such as stone tiled floors, dark wood cabanas, stylish wicker chairs, golden silk brocade and delicate wrought iron lamps.
The entire team at Marché Moderne brings passion and excellence to everything they do, making certain the hospitality here continues to be notable for its down-to-earth attitude coupled with the high standards of the world's best fine dining establishments.