0 ratings
LA Boxing Workout
Locally Owned Franchise
103 E 17th St Ste 1




Costa Mesa

, CA

92627

(view map)
Details
LA Boxing has become Costa Mesa's premier boxing, kickboxing and mixed martial arts gym for one simple reason: this is the only place where you can experience The LA Boxing Workout™. The group exercise innovation captures the excitement and challenges of genuine fight training in a safe, professional environment. The concept is unique in that it teaches proper punching and kicking form and basic fighting techniques while offering a full-body workout.
For 1 hour, you will be instructed on technique, fundamentals, and pushed through a full-body calorie killer! Equipped with 30 Heavy Bags, each class is instructed by the watchful eye of a trained professional or amateur fighter who provides direction and motivation to help every step of the way.
Are you ready to discover the best workout in Orange County, California? Look no further! At LA Boxing Costa Mesa we offer incredible workouts in a clean, safe, and exciting atmosphere that's designed to get you RESULTS. Let's face it, we're all looking for the same thing; tone up, lose a few pounds, and feel great. We also realize that your time shared between work, school, family, and all of life's curve balls leaves little time for anything else.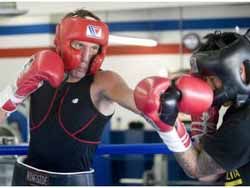 ONE HOUR is all you need with us! Our professional staff will get you in and out and 1,000 calories lighter in 60 minutes. You won't find any classes taking place on wood dance floors at LA Boxing Costa Mesa! That's because we offer a proper boxing, kickboxing, and mixed martial arts experience, complete with 16-ounce gloves and 150-pound punching bags for our members.