Inka Grill
100% Local
562 W. 19th St.




Costa Mesa

, CA

92627

(view map)
Details

Born in a small fishing village in the northern province of Peru, Ana Maria Kishihara founded Inka Grill in Costa Mesa in 1996. Only the finest and freshest of ingredients go into her Latin American creations which were originally taught to by her grandmother Fortunata and great grandmother Juanita.
Our food truly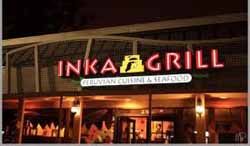 is our passion - our kitchens are extensions of our home, and our guests are extesions of our family. Come try our menu full of award-winning Peruvian dishes and large selection of Peruvian beverages. We guarantee your will experience a revolution in flavor.
Peruvian Rotisserie Chicken, and casual dining like you've never experienced!
Visit our website for both our menus; Rotisserie and Restaurant at http://inkagrillrotisseriechicken.com/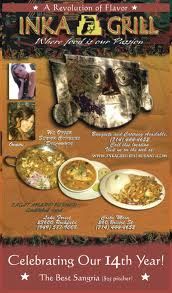 We also offer Peruvian-style catering for all special occaisions - business, friends or family. Our Catering "Packs" range from $7.00 per person to $11.50, and all catering packs include aji sauce, tortillas or bread, and all serving and eating utensils.
Our Other Location:
23600 Rockfield #2, Lake Forrest, 92630 (949) 701-8338
Celebrating our 14th year!!
Casual Peruvian Cuisine in Costa Mesa
You're really going to love it... Buen Apetito!