0 ratings
Greek Town Grill
100% Local
279 E. 17th St.




Costa Mesa

, CA

92627

(view map)
Details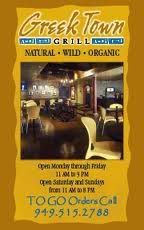 Greek Town Grill
Throughout the 19th and 20th centuries Greeks immigrated to the United States to escape the economic hardships due to occupation and war in the motherland. Settling in bustling cities, such as New York and Chicago, they established vibrant communities, or shall one say "Greek Towns." It was in these communities where they were able to stay true to the traditions of Greece while chasing the American dream.
There was a sense of "parea" in Greek Towns, a word loosely translated to mean coming together with family and friends for fellowship. Churches, restaurants, boutiques, and night clubs peppered the streets and over the years, Greek Towns across America became renowned for their hospitality and exuberance. People from all walks of life would visit to enjoy the delicious rustic cuisines, dance the night away to music of the bouzouki and experience what it means to be Greek, if only for a moment.
Greek Town Grill in Costa Mesa is homage to these lovely, lively neighborhoods, rich in culture, rich in spirit and absolutely rich in taste. We are committed to serving healthier foods by using 100% natural beef and chicken and ingredients of the highest quality, honoring family recipes passed down over the generations. From our zesty tzatziki or mouthwatering moussaka, to our robust salads prepared fresh and cool, Greek Town Grill offers an array of choices you can be confident eating and serving your own family.
As a proud son of Greek immigrants, Greek Town Grill is dedicated to my parents, Panayiota & Stylianos.