0 ratings
French's Cupcake Bakery
100% Local
273 E. 17th St.




Costa Mesa

, CA

92627

(view map)
Details
French's Cupcake Bakery
Since 1976 we have been a full-line, custom, family owned bakery. Voted Best Bakery in Orange County for past 16 years. Customer service is our best feature, and we have all the ingredients to make your bakery experience the best ever.
Each evening around midnight, our Master Bakers are hard at work preparing the next day's baked goods. When our doors open at 5:00am the aromas of the freshest and finest products in Orange County fills the air. We are a full line scratch bakery and some of the items available in our store daily include: cakes, cookies, pies, quiche, French pastries, and a large assortment of dinner rolls and breads. We bake accordingly year round: Thanksgiving, Chanukah, Christmas, New Years, Valentine's Day and all other holidays.

• Our breakfast line is wide and diversified. Jerry French created our famous 14" Wagon wheel pastry when he worked in his Dad's bakery in the early 70's. It has been a staple in our product line for 28 years.

• This year at the Orange County Fair our entries took five blue ribbons and the "Best of the Show" divisional award for our Chocolate Truffles.

• Many of our recipes date back to 1919 when the family's first bakery opened in Hicksville, Ohio.

• Our Vintage Fruitcake was created by Jerry's Grandfather and is still baked using the original recipe.

• Our custom line of Cheesecakes are uniquely ours. Made to order you won't find a better or more satisfying experience.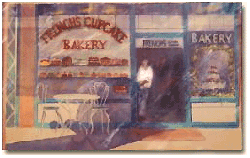 Talk about our baked goods? Some of our newer lines of products include:
• Jerry Lee's Killer Chocolate Cake
• Lemon Blueberry Cake iced in Lemon Cream Cheese
• Chocolate Truffles
• Apple and Peach Jacks
Custom cakes for all occasions are available daily!!
Decorated Cakes. . . . .
Our professionally fresh baked and custom decorated cakes can be designed to fit all occasions. Our trained staff will assist you with plenty of choices to suit the most discriminating taste or needs. We provide a large variety of cake options, fillings and styles of decorations from the simplest to the most elaborate.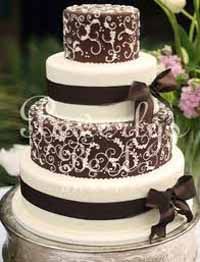 For that extra touch, you can bring or e-mail us your favorite photo or logo and we will put the exact edible photo on your cake. This is a very unique idea for that special milestone birthday, anniversary, wedding shower and retirement parties. Photos can be put on other products as well, cookies, cupcakes, brownies, petit-fours or most surfaces that are large and smooth enough. For a real crowd pleaser try placing multiple photos on larger cakes that tell a story or show different ages of the honoree. See Photo Gallery.

Office events are even more special with a cake designed with your logo. We welcome custom orders and will work with you to make your presentation fabulous!

At French's Cupcake Bakery you are limited only by your imagination!
Angel Food Cakes, Baklava, Biscotti, Biscuits, Boston Cream Pies,Bread Pudding, Breads and Dinner Rolls, Brownie Mousse Cake, Brownies, Bundt Cakes, Cakes, Cinnamon Rolls, Cookie Trays, Cookies, Cheese Cakes, Croissants, Croissants, Cupcakes, Carrot, German Chocolate, Danish, Eclairs, Filled Florentines, French Kisses, French Pastries, Fresh Strawberry Whipped Cream Cakes, Fruit Cakes, Fudge, German Linzer, Italian Soaked Cakes, King Cakes (Mardi Gras), Large Coffee Cakes, Lemon Squares, Liqueur Cakes, Loaves, Meringue Cookies, Meringue Shells, Muffins, Nut Squares, Petit Fours, Pie Dough or Puff Pastry Turnovers, Pies, Pinapple Upside Down Cakes, Princess Squares, Photo Cakes, Quiche, Quick Breads, Red Velvet Cakes, Rum & Bourbon Balls, Sticky Buns, Strawberries (Chocolate Dipped), Strawberries (Tuxedo or Brides Dress), Strudels, Tarts, Fresh Fruit and Lemon Tarts, Tiramisu, Tortes, Tres Leche Cakes, Trifle, Truffles-Chocolate, Wagon Wheel Pastry, Wedding Cakes, Whipped Cream Cakes & Desserts, Yule Logs