0 ratings
Costa Mesa Chamber of Commerce
100% Local
1700 Adams Ave # 101




Costa Mesa

, CA

92626

(view map)
Details
When the "Costa Mesa: A Great Place To Shop!" promotion was first created in October 1994, sales tax revenue collected by Costa Mesa businesses funded nearly 36% of the City's budget. The size of this contribution by business that pays for city services was significant enough for the Chamber to encourage all residents to frequent Costa Mesa businesses whenever possible rather than make their purchases in other cities. The reasons: shopping Costa Mesa helps to fund police and fire services; street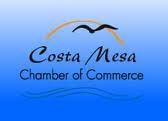 smaintenance and upgrades; parks and recreational programs; and, for that matter, all services provided by the City. It is even more important today to realize the contribution of the retail sales tax to Costa Mesa's budget. Recent year's data indicates that the sales tax contribution to the City's budget has grown to nearly 44%. Additionally, local businesses provide much needed jobs and give back to the community by supporting local organizations.
Shopping at home in Costa Mesa is not a burden. The quality and variety of retailers, restaurants, hotels and services are everything that one could desire. With this in mind the continuation of "Costa Mesa: A Great Place To Shop!" makes a lot of sense – both to encourage patronage of all city businesses and to highlight the contribution of all our businesses to the well-being of Costa Mesa.
Membership Benefits:
Advocate for Business

Referral Service

Networking Opportunities and Events

Community Development

Business Retention & Economic Development

Publicity and Promotions for Local Businesses
Additional Benefits:
- High Profile Event Sponsorships
- Low Costa Advertising Opportunities
- Membership Roster on CD
- Ribbon Cuttings
- President's Circle of Investors
** Other Chamber activities include our Monthly Breakfast Boost" Network Event, Monthly Networking Luncheon, After-Hours Business Mixer, Student Awards Breakfast, Public Safety BBQ, Hall of Fame Awards Luncheon and ever-popular Costa Mesa Community Golf Tournament.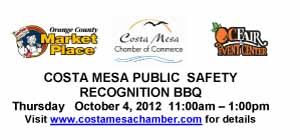 For further information on joining the Chamber, please contact:
Tom Brennan (714) 885-9093