0 ratings
Chick-fil-A
Locally Owned Franchise
3181 Harbor Blvd Costa Mesa, CA 92626 (714) 435-0145




Costa Mesa

, CA

92626

(view map)
Details

Long before our new Chick-fil-A in Costa Mesa opened, It all started in 1946 when Truett Cathy opened his first restaurant, The Dwarf Grill, in Hapeville, Georgia. Credited with inventing Chick-fil-A's boneless breast of chicken sandwich, Mr. Cathy founded Chick-fil-A, Inc. in the early 1960s and pioneered the establishment of restaurants in shopping malls with the opening of the first Chick-fil-A Restaurant at a mall in suburban Atlanta in 1967. Since then, Chick-fil-A has steadily grown to become the second largest quick-service chicken restaurant chain in the United States, with over 1,615 locations in 39 states and Washington, D.C. In 2011, annual sales were over $4.1 billion. Chick-fil-A is still privately held and family owned.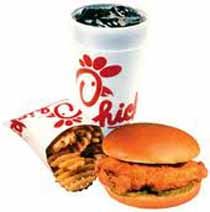 At Chick-fil-A we use fresh quality ingredients. Our salads and wraps are freshly prepared, the lemon juice for our Lemonade is freshly squeezed, and we even chop our own cabbage and carrots for our Cole Slaw and Carrot and Raisin Salad. We also apply the same fresh approach to our chicken. All of our chicken is freshly breaded at each Restaurant. We believe in providing a balanced menu with choices. Whether you choose to eat a lighter option with our salads and Chargrilled Chicken sandwich, or treat yourself to one of our delicious hand-spun milkshakes, you will find many products to choose from based on your individual taste preference and dietary requirements.
With 44 consecutive years of positive sales growth, Chick-fil-A has set itself apart by pioneering innovations and delicious products—including the ever-popular Chick-fil-A® Chicken Sandwich. The
Chick-fil-A
culture
and
service
tradition
in
our
restaurants
is
to treat
every
person
with
honor,
dignity
and
respect
– regardless
of
their
belief,
race,
creed, sexual
orientation
or
gender.
We
will
continue
this tradition
in
the
over
1,600
restaurants run
by
independent
Owner/Operators like Tammy Guadagno - right here in Costa Mesa, CA..
COW HISTORY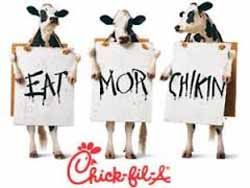 In 1995, a renegade cow, paintbrush in mouth, painted the three words "EAT MOR CHIKIN" on a billboard. From that day forward, the burger-eating landscape would forever be changed. These fearless cows, acting in enlightened self-interest, realized that when people eat chicken, they don't eat them. Today, the cows' herds have increased and their message reaches millions - on television, radio, the internet, and the occasional water tower. Needless to say, Chick-fil-A fully endorses and appreciates the monumental efforts made by our most beloved bovine friends.
CATERING
Chick-fil-A is the easy choice for irresistible food, and a remarkable experience across a variety of occasions: birthdays, soirees, graduation parties, tailgates, meetings…... We offer both pick-up and delivery services to meet your catering needs. We ensure that your order is correct, ready to be picked up or delivered at the right temperature, at the right time- in other words, the hot food is hot, and the cold food is cold.
The food industry, including the Zagat Guide, has recognized Chick-fil-A for its quality, trans fat-free food and customer service. The company plans to create 7,000 jobs at 96 new locations across the country this year, including 70 new jobs at our Costa Mesa location.