Celestino's Quality Meats
100% Local
270 E. 17th St.




Costa Mesa

, CA

92627

(view map)
Details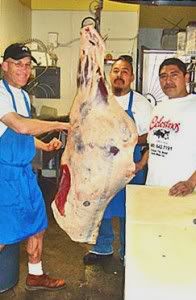 Celestino's all natural quality meats goes the extra mile. Our beef is cut from the bone in shop, and our sausages are made fresh on-site using the best methods. Whether you're ordering for a large dinner or Bar-B-Cue, or a top-notch meal for two, your meats will consistently delight your senses and treat you with the best quality you can find in Costa Mesa, CA. You can even order online!
Celestino's is famous in our area for our All-Natural Sausages. Our proprietary recipes produce unique and flavorful sausages using time-honored traditional techniques.
We think Jerky is one of the best all-natural snacks you can eat, and you'll find a wide selection of various flavors and types like Beef, Chicken, Veal, Pork, Lamb, Venison, Buffalo, and Fish. We've also found a way to make it even healthier! We use only the finest all-natural meats to create our hand-made jerky, and everything we offer is hormone and nitrate free! We even create Gluten-Free Jerky so that you can enjoy our amazing secret jerky recipes without gluten!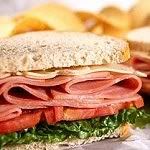 Our amazing Deli Sandwich selection offers you a great way to eat healthy when you're on the go! From a lunch time treat to a weekend snack, our fresh deli sandwiches are sure to be the highlight of your day. We offer a complete selection of fresh sandwiches, home-made breads, exquisite cheese selections, and all the toppings and dressings to make your sandwich perfect. If you're lucky enough to be in the Costa Mesa area, make sure to visit this old-world meat and deli shop and taste what they have to offer. All-natural, hormone-free and made with love every day. And, don't miss our huge selection of fresh 'make at home' preparations. Each day our refrigerated cases are stocked with fresh preparations, marinades, and dishes that are ready to eat or just need to be baked once you get home. What a time-saver!