Beach Pit BBQ
100% Local
1676 Tustin Avenue




Costa Mesa

, California

92627

(view map)
Details
Beach Pit BBQ Restaurant & Catering in Costa Mesa
At Beach Pit BBQ in Costa Mesa, we want to show you what BBQ means to us and, most importantly, that authentic Southern BBQ isn't just for the South!
REAL BBQ means indirect heat cooking instead of simply grilling

BBQ means REAL flavor, derived from a special blend of Hickory and Pecan wood

BBQ means the perfect BBQ sauce – and we've got that covered. Our signature Beach Pit BBQ Sauce is so good, you'll want to lick your plate!

BBQ is an experience – and, for Beach Pit BBQ, that means a relaxed, comfortable atmosphere where you can enjoy delicious food and spend time with family and friends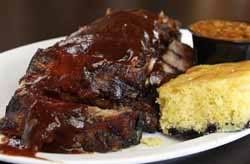 "The meat is fall-off-the-bone tender and served on a soft white bun, just as they do down South. Only one complaint: ask for an extra side of barbecue sauce; the smoky and tangy sauce is that good." –The New York Times

Still not sure what BBQ really means? Well, what are you waiting for? We invite you to come see for yourself!
Our Costa Mesa location is a fantastic place to have a business luncheon as well as a kid-friendly environment for your next family dining experience. Come visit us today!
Tim DeCinces created Beach Pit BBQ in 2005 to be a laid-back, fast casual restaurant where our customers can enjoy delicious, authentic BBQ. Having a family of his own, Tim wanted to make sure he could please the whole family by creating a menu full of authentic Southern BBQ, for the true BBQ lover, combined with lighter options including wraps, salads and pizzas– all served with a generous side of Southern hospitality.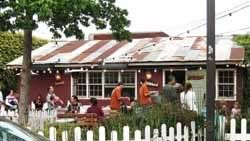 Beach Pit BBQ in Costa Mesa slowly smokes their meats for up to 12 hours in a special blend of Hickory and Pecan wood. Each of their authentic BBQ offerings – Pulled Pork, Beef Brisket, Baby Back Ribs, Chicken, Sausage, Spare Ribs and Tri-Tip – are covered with their signature proprietary Beach Pit BBQ Sauce, a sauce so tasty that it remains the only BBQ sauce on the menu.