0 ratings
Altus Vinyl
100% Local
2234 Northwestern Ave




Racine

, WI

53404

(view map)
Details
Manufacturing in our Wisconsin based 20,000 square foot facility, Altus Vinyl offers expert capabilities for heat sealing products, as well as customizing features such as foil stamping, debossing, screen printing, and custom design. We will personally source vinyl to offer our customers the colors, textures, and features necessary to create their made-to-order product.
Our team of sales experts, engineers, designers, and customer service representatives work closely and listen attentively to our customers needs, in order to provide them with the high, quality vinyl products that meet their exact requirements.
We have produced thousands of custom designs. We also offer many stock products with short lead times. Altus Vinyl is committed to servicing our customers with experienced personalized attention and providing superior quality products, respectful of deadlines, all at a competitive price!
We look forward to partnering with you—transforming your vision into product!
Services Offered
At Altus Vinyl, we want you to experience a one stop vinyl shop with great pricing, great service, and great possibilities and ideas to enhance your company and company products!
Imprinting Methods

Art Services

Drop Shipping

Sampling and Prototypes

Die Cut (Vinyl, Cardboard, Chip Board, Paper Board, Fabrics, Leather)

Vacuum forming

Fulfillment
NAICS Codes
316998: ALL OTHER LEATHER GOOD AND ALLIED PRODUCT MANUFACTURING

322212: FOLDING PAPERBOARD BOX MANUFACTURING

322230: STATIONERY PRODUCT MANUFACTURING

323111: COMMERCIAL PRINTING (EXCEPT SCREEN AND BOOKS)

323120: SUPPORT ACTIVITIES FOR PRINTING

326111: PLASTICS BAG AND POUCH MANUFACTURING

326113: UNLAMINATED PLASTICS FILM AND SHEET (EXCEPT PACKAGING) MANUFACTURING

326121: UNLAMINATED PLASTICS PROFILE SHAPE MANUFACTURING

326220: RUBBER AND PLASTICS HOSES AND BELTING MANUFACTURING

332913: PLUMBING FIXTURE FITTING AND TRIM MANUFACTURING
The Amazing Rain Drain®
Rain Drain® products offer an essential rain removal system for protection against erosion and washouts to landscaping, and will deliver drier foundations and basements to assist in retaining structural materials.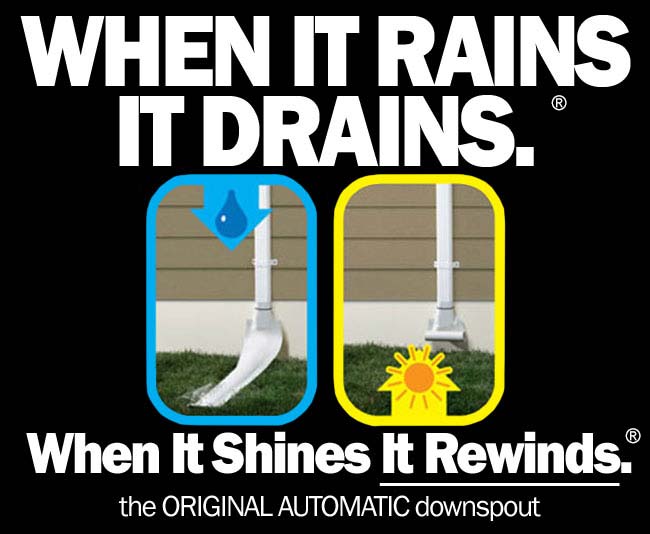 When It Rains, It Drains. When It Shines, It Rewinds.® The Rain Drain® rain removal system is that simple in operation. The force of the rain traveling to the downspout will start the Rain Drain® water extension process through the perforated holes. It rains and it will automatically unroll, the rain stops and it will automatically rewind. Simple process, vital protection. Exclusively designed and engineered with a built-in flush system. Simply slide the grooved plastic fastener off from the end of the Rain Drain® to flush and release any debris to flow through.

Rain Drain® URD46 is constructed with UV inhibited vinyl for durability and pliable softness. Rain Drain® URD46 is available in four colors to coordinate with the exterior, or landscape design. White, Tan, Dark Brown, and Green.
46" Rain Drain® Gutter Attachment (URD46)
Description: Automatic unwind & recoil. Fits standard downspouts – 2" x 3" and 3" x 4", and 4" round.
Colors: White, Bone, Green, Brown

8 ft. & 12ft. Rain Drain® Perforated Rolls (RD8) / (RD12)
Description: Constructed with UV inhibited polyethylene. These long perforated rolls fit standard downspouts that are 2"x3" 3"x4", and 4" round and are easy to install. Fastening tie included.
Colors: Green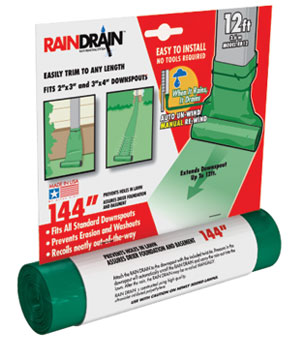 100 ft. & 1000 ft. Rain Drain® Non-Perforated Roll (TB100) / (TB1000)
Description: Rain Drain® non-perforated rolls are of quality UV inhibited polyethylene tubing that is conveniently and quality packed in a box for quick water drainage and redirection. Customize a cut to a specific length by the foot for a certain project. Store the rest and be prepared to have this vital water protection on hand for future use. The TB100 allows you to divert water long distances through the non-perforated UV inhibited polyethylene for rapid water removal.Fastening devices not included.
Colors: Green
Ideal For:
Flooded areas outside/inside

Extreme weather conditions

Swimming pool drainage

Assistant to sump pump for basement flooding

Construction sites

Landscaping projects