0 ratings
The Queen's Bakery
100% Local
2950 Grace Ln., suite A




Costa Mesa

, CA

92626

(view map)
Details
The Queen's Bakery
The Queen's Bakery in Costa Mesa was founded in 2011 by two conspiring women, and open to All who love quality baked treats, wholesome food, delightful parties and of course, delightful teas. An afternoon tea to break up your holiday or gift shopping shopping is the best way to keep the momentum going. Gather your girlfriends or your daughter for a splendid afternoon with a classic tea at Queen's Bakery Café, or simply experience the grandeur of our stunning assortment of pasteries, cookies, cakes, cupcakes and more.
More than anything, we love making tempting, pretty things for our friends to eat. But! The Queen is particular and so are we. So we follow her mottos, with no exceptions.
Everything from scratch, all natural - all of the time.
No trans fats or hydrogenated oils of any sort.
Pure cane sugar - Always.
No artificial flavors in our baking - Ever.
No ingredients with preservatives.
Fresh, baked daily bread and treats.
Always friendly, helpful people.
The Queen's Bakery is also famous for hosting parties, and she favors parties that are just as delicious as they are merry! We're one of OC's Premiere Venues for Private Parties and Afternoon Teas. We offer tasty treats and parties to teach others how to bake to the fullest! Whatever your party type, you'll always get a courteous "party courier" and an exquisitely royal hosting space.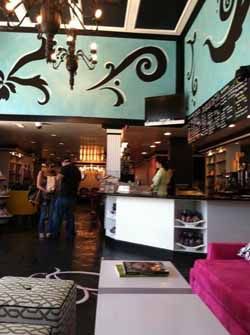 Baked-Daily Cupcakes
: Summer Citrus, Margarita, Pumkin Chip Spice and Chocolate Chipolte'
Lunch: Panini, Cold Sandwiches, Salads, House Sauces and Dressings
Pastries: Tiramisu, Napoleans, Eclairs, Cream Puffs, Roulade and Macaroons
Quality and Socially-Responsible Teas
Artisan Coffees and Espresso
Cookie, Cupcake and Cake Decorating Parties
Custom Cakes: Butter Cream/Whipped Cream
Party Cakes: Fondant
Custom Cookies: Seasonal, Holiday and Celebrations