The Meat House
100% Local
103 E. 17th St




Costa Mesa

, CA

92627

(view map)
Details
The Meat House expands its locally-owned operations to include Costa Mesa, CA – with a business model designed to maintain our high standards of quality and personal service – we continue to emphasize our founding principles: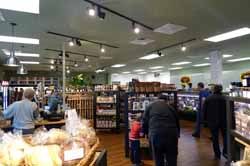 • Offer premium cuts of meats & complementary items at competitive prices
• In a clean and inviting shopping experience
• While providing unparalleled customer service that leaves a lasting impression
In 2003, after many years of success in the restaurant industry, lifelong friends Justin Rosberg and Jason Parent founded The Meat House – opening their first store in Portsmouth, New Hampshire.
The partners' aim was to revive the art of the neighborhood butcher – and the superior level of personalized service and satisfaction of by-gone days. Their focus was on quality, consistency and unparalleled customer service.
Within the first year of business, The Meat House became a well-recognized and highly regarded part of the New Hampshire business community, thanks to strong company principles and a commitment to supporting the neighborhoods of our growing store locations.
As a result of our continued efforts, The Meat House has received numerous community and critics choice awards including "Best Butcher Shop" and "The Best of New Hampshire" by New Hampshire Magazine.
The Meat House offers everything you need to prepare a complete gourmet meal that your family and friends will rave about. We offer a wide selection of expertly butchered premium meats, poultry, veal, lamb, and pork, prepared proteins, fine cheeses, fresh produce, hearty breads, prepared side dishes, Boar's Head Deli products, delectable desserts and pastries, and other gourmet grocery items. We also carry over 200 varieties of wines from around the world, which are hand selected by The Meat House's Certified Wine Educator.