0 ratings
The Flame Broiler
Locally Owned Franchise
320 S. Bristol St.




Costa Mesa

, CA

92626

(view map)
Details
If you are concerned about your health, you came to the right place. Why stress your body? Eat what your body needs and perform better in all you do. At The Flame Broiler Restaurants, we cook for your health:
-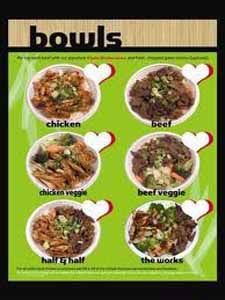 No frying
Gluten Free Items Available--Request Chicken menu items with absolutely no Magic Sauce. HOT SAUCE and HOUSE DRESSING are GLUTEN FREE
Our commitment to your health is our goal!
We would like to take this opportunity to introduce to you the unique menu and growing network of The Flame Broiler The Rice Bowl King restaurants. We are ninety-eight (98) units strong and growing. Our commitment to friendly service, a clean and inviting environment, and healthy food served fast has already won the approval of our customers of all ethnicities. Also, for health's sake, we are working towards the goal of serving all organic, 100% natural food. Not perfect, but always working towards perfection!