0 ratings
Taco Mesa
100% Local
647 W.19th St.




Costa Mesa

, CA

92627

(view map)
Details
Taco Mesa on 19th Street in Costa Mesa has a well-worn patio with a modest arrangement of potted plants, piñatas, heat lamps and aluminum chairs struggling to support the many-a-full-bellied guests who weigh them down. Since 1991, Taco Mesa has offered a menu free of lard, MSG, preservatives, coloring or other additives. The Calderon family has created an innovative and mouth-watering cuisine that keeps loyal customers coming back for more. The line of people waiting to order is almost as eclectic as the décor. Families, college students, laborers and business people stand patiently in suits, sweatshirts, T-shirts and jeans, thinking about what menu item they will eat.
On Tuesdays, it's hard to find a vacant seat, but this won't keep people away. The fresh, filling, authentic Mexican taste is affordable and some of the best food in town. Once the location of a Taco Bell, Taco Mesa has transformed the place to be only the skeleton of a fast-food chain now decorated and worn in with a warmer, more authentic style. The inside of the restaurant is only big enough for a counter to order from, a mini salad bar, a soda machine and a line. There is a bar ledge to grab a stool inside, or enjoy our large patio.
We have four Taco Mesa locations throughout Orange County, as well as its sister restaurant Taco Rosa, another fantastic Mexican restaurant located in Newport Beach and Tustin Market Place. Taco Rosa offers a more formal ambiance, but the consistency in flavor and quality does not differ.
Our notorious Taco Tuesday offers a dollar menu with rice, beans, soup and tacos (chicken, beef or fish), all for a dollar each. Two tacos, and a side of beans and rice is enough food to set a young, growing adult into a food coma worth reliving every week. The tacos are stuffed so full that they are served on two large corn tortillas and then grilled closed. Big chunks of freshly grilled chicken rest on the spine of the taco as shredded lettuces, cubed tomatoes, crumbled cheese and a delicious sauce fill in the rest. You are almost always left with a good amount of the inside of the taco that slipped out with each bite left on your plate, creating another meal (sin tortilla).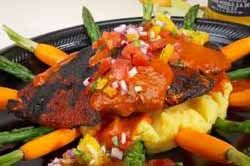 If you are more of a burrito fan, you can't miss Wednesday's Burrito Madness, where you can order a delicious Taco Mesa burrito and a drink (beer is $1.99) for $5.00. The burrito comes on a warm, lightly grilled flour tortilla with freshly cooked and cut pieces of blackened chicken (you have a choice of beef or fish, as well) all wrapped up and served with Taco Mesa love. Other than Tuesdays and Wednesdays, Taco Mesa offers great specials throughout the week.
Even during an Orange County winter, when our nights change from cool to chilly, and our coats turn from none to sweaters, the heated patio is a comfortable place to sit and listen to traffic and conversation race through an aging evening in a truly delicious local spot.