0 ratings
SoCo Farmers Market
100% Local
3315 Hyland Ave.




Costa Mesa

, CA

92626

(view map)
Phone:
949-302-4702
Website:
http://www.socofm.com/
Hours:
Tues & Thurs: 11am-2pm
Friday Night Foodies: 5pm-8pm
Saturdays: 9am-2pm
Social Media
Details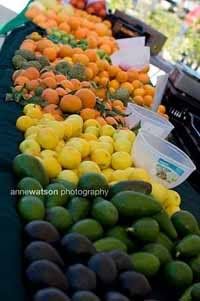 What is a Certified Farmers' Market?
California Certified Farmers' Markets are the "Real Thing", places where the farmers sell their crops directly to the public. Before a farmer can sell at at Certified Farmers' Market, the government checks to make sure that the farmers grows the produce the farmer is selling. Only California grown produce is allowed in the Certified section of a farmers' market!
Located 1 block northwest of 405 & Harbor Blvd at the SoCo Collection Retail Center. Featuring farm fresh fruits and vegetables, organic honey, cheeses, nuts, and more! Join us for cooking demonstrations which feature items direct from the farmers and take home a farm fresh dinner for your family!
- Tuesdays & Thursdays: 11am-2pm, on the corner parking lot of Hyland & Sunflower
- Friday Night Foodies: 5pm-8pm, parked at the corner of South Coast and Hyland
- Saturdays: 9am-2pm at South Coast Collection ("SoCo") retail center
Experience the market every Saturday from 9-2pm with our variety of activities that will teach you how to make nutritious and delicious meals. We'll show you what's new at the market and share the nutritional benefits of farm fresh produce. "Like" us on Facebook for the weekly schedule, which includes live cooking demos, kid's friendly activities and more! Free Parking!
FARM TO FOOD TRUCK CHALLENGE
A farmers' market inspired cooking competition pitting top chefs from gourmet food trucks against each other to prepare the best dish from select ingredients available from our certified farmers.
"Farmers' Market, Food Truck Fest and Cooking Competition Extravaganza!"
Farm to Food Truck Challenge III
9am-2pm (12pm Competition)
at SoCo (3315 Hyland Ave, Costa Mesa)
*A special thanks to Anne Watson Photography for her fabulous photos from our market. She captures the essence of the farmers' market with her great snapshots. We greatly appreciate her dedicated support of our farmers.
We Just Won A "BEST OF OC" Award!
We think we are hot stuff after being voted one of The BEST Farmers Market in Orange County! And we are happy to dedicate our win to you, our farmers' market fans. The other two market winners have been around for over 20 years so we this is quite an accomplishment given we haven't even turned two years old yet!