0 ratings
ECCO Restaurant & Bar
100% Local
2937 Bristol, Suite A103




Costa Mesa

, CA

92626

(view map)
Phone:
714-444-ECCO (3226)
Website:
http://www.eccocm.com/
Hours:
Mon- Wed 11:00 am to 2:30 pm
Tues- Wed 5:00 pm – 11:00 pm
Thurs – Sat 11:00 am to & 2:30 pm 5:00 pm – 2:00 am
Sun 11:00 am to 2:30 pm
Social Media
Details
So what's in a name? Well, during our travels through Italy, we frequently heard chefs pronounce the word ecco while presenting food at the table. Ecco literally means "here it is" or "lo and behold," a testament to the quality of food and the confidence of the chef. And here it is, around the table where some of the best memories in life happen with good friends, flavorful food, and great wine.
To say we're obsessed with pizza might be an understatement.
We simply love pizza – true Neapolitan pizza – otherwise known as Vera Pizza Napletana. And the truth of the matter is, the only other place you can taste such an authentic Pizza Napletana is Naples (Napoli) itself. Ecco Restaurant in Costa Mesa is one of the only restaurants outside Napoli to give this much care to our pizzas. Most of the ingredients – flour, oil, tomatoes and mozzarella are imported from Italy. We use a real wood-fire stove in baking our pizzas, a skill that takes years to master.
Celebrations and Events
With a lush ambience of The Camp in Costa Mesa, Ecco makes a perfect destination for any social or corporate function, including product launches, fashion parades, premieres, charity events, press conferences, Christmas parties and after-parties, accommodating from 40 to 400 guests.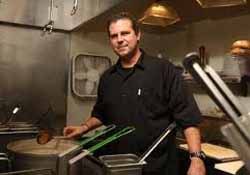 Food and Beverage packages can be tailored especially for your event. Our chefs and mixologists are delighted to create menus specific to your theme or you can choose from our extensive canapè and cocktail menus (please see attached).
We can also assist with theming requirements and are happy to recommend entertainment from our wide range of DJ's, bands and musicians. Please contact us on 714-444-ECCO to discuss all of your function requirements. Functions can be arranged Monday through Thursday at Ecco Restaurant. Catered Events can be arranged any day of the week.
Our menu isn't experimental or overworked, it simply features pure, flavorful ingredients that are organically grown and locally sourced. So if we find some amazing summer squash in the farmers' market in the morning, you're likely to find it on our menu in the evening.
Lunch
Monday – Friday 11:00 a.m. -- 2:30 p.m.
Saturday and Sunday 11:00 a.m. -- 2:30 p.m.
Happy Hour
Monday – Friday 5:00 p.m. -- 7:00 p.m.
Dinner
Sunday – Thursday 5:00 p.m. -- 10:00 p.m.
Friday and Saturday 5:00 p.m. -- 11:00 p.m.
Late Night Parlor Menu
Friday and Saturday 10:00 p.m. -- 2:00 a.m.
Brunch
Saturday and Sunday 11:00 a .m. -- 2:30 p.m.