0 ratings
Blackmarket Bakery
100% Local
2937 Bristol St Suite D-100A




Costa Mesa

, CA

92626

(view map)
Details
Handmade, from scratch - that's it. We avoid all artificial flavors, additives, preservatives... if my grandmother doesn't know what it is, we don't use it. If you would like an ingredient listing on anything, just ask!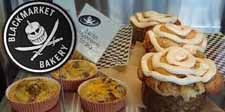 Look around. Chainstore consolidation and freezer trucks have made the handmade B-day cake or an all butter brioche about as easy to come by as a box of Cuban cigars. Well, basic economics says that when the powers that be deny us the good stuff, "unconventional" markets will arise.
Resistance Is Futile!
Cakes made from scratch with flavors ranging from the exotic to the nostalgic. Savory focaccia pockets filled with sauteed eggplant & tomato or cheddar, shallots & crimini mushrooms. Florentines brimming with almonds, cranberries & candied ginger. All butter croissants enclosing a blast of Belgian dark chocolate. With our CIA-trained pastry chef Rachel Marie (the Culinary Institute of America, we think...), the Blackmarket Bakery can hook you up with things you probably didn't know existed. Maybe you've got a special someone that you want to impress; or maybe you deserve a Real Treat. So if you think chocolate and a sense of humor are a little better on the darker side, you may just find what you need on the Blackmarket.
CROISSANTS & SCONES
SAVORIES & MUFFINS
BREAKFAST FOR A GROUP
BREADS
TOASTED SANDWICHES
COOKIES
CONFECTIONS
BARS
CAKES & MOUSSES
FLOURLESS CAKES & BREAD PUDDING
MARCHÉ NOIR
TARTS
OPEN WIDE ICE CREAM SANDWICHES
KEAN COFFEE & OTHER BEVERAGES
Blackmarket Bakery provides delicious, affordable two and three tiered made from scratch cakes that focus on flavor and fun. We finish our tiered cakes simply - with your choice of flavor, buttercream and border. Keep it simple for an elegant presentation or use our cake as a canvas for your D.I.Y. vision. Be your own Picasso, Banksy or Martha Stewart!
So whether it's a birthday, wedding, or you've just got a hankering for cake goodness, give it a try here. Adorn your cake with fresh berries, cut flowers, racecars or anything else that catches your eye. Or, why not save money and throw a party where cake decorating is the entertainment?