0 ratings
118 Degrees
100% Local
2981 Bristol Suite B5




Costa Mesa

, CA

92626

(view map)
Phone:
(714) 754-0718
Website:
http://www.shop118degrees.com/
Hours:
Monday through Saturday 9am – 10pm
(last seating at 9pm)
Sundays 10am to 9pm
(last seating at 8pm)
Sunday Brunch 10am to 3pm
Social Media
Details
118 Degrees
- Jenny Ross Living Foods -
Come and sample selections from our daily menu featuring: small bites, living salads by the pound, entrees, snacks and desserts - nothing prepared over 118 degrees heat, thus maintaining maximum nutritional benefit for your body.
Orange County's Premier Organic Gourmet Raw Foods Restaurant
We are a one-stop shop for healthy and delicious meals, snacks and drinks. Come in and sit down to enjoy the ambiance of colorful living cuisine, organic wines, herbal tonics or superfood smoothies all served in an eco-friendly environment that is uplifting and peaceful. Don't forget your morning coffee and tea made from freshly ground organic beans and served up with Brazil Nut Milk and Agave Nectar. The options are many and the results are un-deniable. Clean healthy, Organic food that is simply delicious.
Try Our Favorites:
Marinated Shitake Salad
Deviled Tomato
Thai Spring Rolls
Mole Enchiladas

Review Jenny's Books: http://118degrees.com/users/awp.php?ln=113744&p=book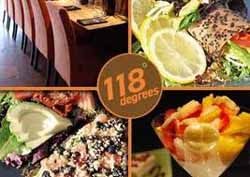 Jenny Ross Living Foods has partnered with Whole Foods Market to bring you vibrant living foods made fresh daily. Available to go and for dine in at your local Whole Foods Market. The concept of this fresh prepared food venue is to offer you your favorite food items in a easily accessible format.
Our Mission
To educate the world about the power of Gourmet Living Foods
Come on by and enjoy delicious living foods any day of the week for breakfast, lunch, dinner and Sunday Brunch! Everything is prepared by hand using local orgnanic produce whenever possible, oftentimes picked that same day! To your health!!