0 ratings
Knockouts Haircuts For Men
Locally Owned Franchise
11153 South Parker Road




Parker

, Colorado

80134

(view map)
Details
YOU HAVE SELECTED THE BEST PLACE FOR MENS HAIRCARE AND GROOMING!
Knockouts is a full service barbershop that caters to men's unique
style and personality. You can escape into a world of total comfort,
relaxation, and rejuvenation. Treat yourself to an experience
of a quality haircut, massage therapy, manicure, pedicure,
color or wax ... performed by the specially selected female barbers:
The Knockouts Girls!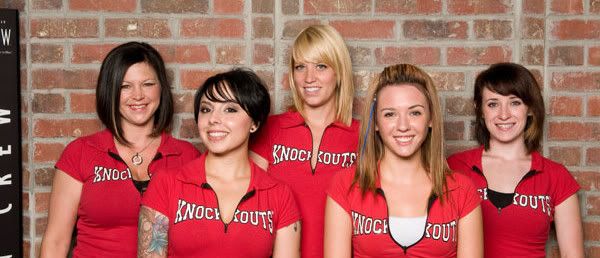 Indulge yourself with a unique Knockouts cut, including

flattops, military cuts, straight razor neck shaves, hot towel treatments, razor fades, and full head shaves.
Knockouts first-class service includes today's most advanced coloring and hair management techniques and products. The staff, The Knockouts Girls, are specially selected and your services are assured.
Knockouts is dedicated to providing excellent customer service, a unique experience and our gift cards and special packages are sure to make excellent gifts for that colleague, co-worker, sales staff or friend as a "Thank You" for a job well done!
Franchises are available in Colorado Please call Orlando at 303-807-0681 for more information or go to http://www.knockouts.net to get the process started.
Knockouts also offer services for groomsmen, wedding parties, corporate events or fund raising projects.
KNOCKOUTS IS LOCATED IN THE SHOPPING CENTER AT THE CORNER OF 20 MILE AND PARKER ROAD NEAR IHOP.
CALL (720) 851-9120
Local Rewards