0 ratings
Advantage Auto Repair of Parker, LLC
100% Local
18700 South Longs Way




Parker

, Colorado

80134

(view map)
Details




Auto Repair Services
If you chose to have your vehicle repaired with us we will waive the diagnostic fee. ... Learn more »
What Sets Us Apart
Experience | Commitment To Quality | Owner Operated and Run
Knowledge is Power
If your automobile does need major repairs, we hope you'll stop by our shop because you trust us and know we're going to treat you with respect. We never pressure any of our customers or potential customers to purchase a service or repair. We strongly encourage our customers to discuss any service or repair with your significant partner. You can chose to do as much or as little service based on our free 27 point evaluation. We guarantee that we will never sell you any service you don't need.
Focus on You. Not Your Wallet
At Advantage Auto Repair of Parker, you'll get an honest consultation and evaluation of your car. We'll do the repairs you need and then recommend anything that would help your car run better. We won't hold your car hostage and force you to make repairs that you don't need. There are no unnecessary sales / high pressure service writers upselling you additional services.
Trust our Highly Trained Technicians
Advantage Auto Repair's Technician Team has experience and credentials that are unmatched in the area. Our two head technicians have 52 years combined experience in the automotive repair industry. Both are ASE certified MASTER AUTOMOBILE TECHNICIANS, meaning they can fix anything you bring into the shop. From brand new luxury cars to classic automobiles, if you can get it into our shop, we will fix it and fix it right.
Dodge Master Technician
Advantage Auto Repair of Parker has on staff a Dodge, Chrysler and Jeep Master Technician. This means we can service any issues you are having with your vehicle, including: transmissions, transfer cases, engine diagnostics and more.
Community Involvement / Recognition
Awards
The Readers of Colorado Community News Papers voted Advantage Auto Repair "Best of the Best" Reader's Choice Award in 2005.
Recognition
Advantage Auto Repair of Parker has been incredibly active with the Parker Fire and Police Departments. It's not just about giving back to the community. It's about keeping our children safe on the road and in their lives. Advantage Auto Repair has been recognized by the Parker Police Department for our active role in the various programs they have developed for keeping children and young adults safe.
Save Teen Lives Program
The Parker Save Teen Lives Program is designed to help young drivers learn techniques and skills that will help them avoid accidents and mishaps through training. The Save Teen Lives Program is a one day course taught by specially trained off-duty Parker Police and Douglas County Sheriff Officers. The course includes an accident avoidance simulator, steering and braking techniques, and skid control techniques.
The Save Teen Lives Program Philosophy is all about teaching skills through repeated experience. Because accidents happen so fast, the skills taught have to be instinctive. The Save Teen Lives program helps young drivers learn those skills. The course is a one-time $150 tuition and scholarships are available. Visit the website or call 303-805-0228 for more information.
Parker CO Police Explorer Program
The Parker Police Department's Explorer Program is for young adults interested in becoming police between the ages of 15 and 20. Explorers will be able to attend an Explorer Law Enforcement Academy, compete in a variety of competitions throughout the United States and participate in an invaluable learning experience. For more information on this program, please call 303.805.3362.
Requirements: Must have no felony convictions or certain misdemeanor convictions. Must be in good standing at your school. Must be able to volunteer a minimum of 12 hours per month. Students between 15 and 20 years of age.
Parker D.A.R.E. Program
Advantage Auto Repair of Parker has been a long-time sponsor of the D.A.R.E. Program. D.A.R.E., or Drug Abuse Resistance Education, is a program that educates kids about the dangers of drug use.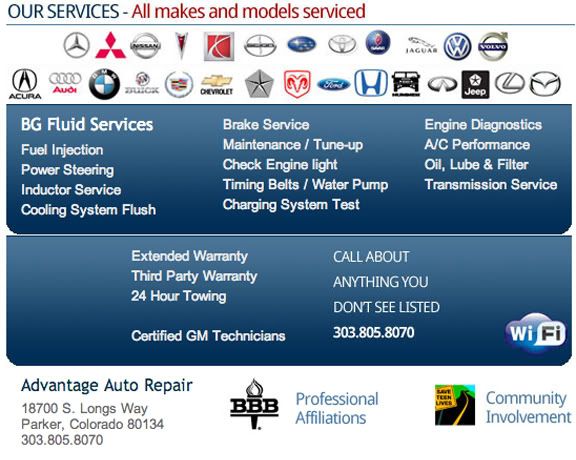 | | | | |
| --- | --- | --- | --- |
| | | | |
Local Rewards