Hemphill's Rugs & Carpets
100% Local
230 East 17th Street




Costa Mesa

, CA

92627

(view map)
Details

Serving Orange County and Los Angeles County including Newport Beach, Laguna Beach, Huntington Beach, Costa Mesa, Tustin and Irvine. Hemphill's is the premier showroom for rugs, carpets, and custom hardwood - located in Costa Mesa, CA. In fact, Hemphill's is one of about 85 showrooms Nationwide recognized by the WOOLS OF NEW ZEALAND PREMIER PARTNER SHOWROOM OF EXCELLENCE.
We have clients throughout Southern California who visit our showroom and are amazed by our collection. There is no way that we could possibly attempt to put all of our offerings on our website. We have attempted to show the depth of products that we offer. However, we receive new products almost daily. We like to keep our inventory of area rugs fresh and appealing. In addition, we invest a large amount of money each year on carpet samples and unique displays to make Hemphill's Rugs & Carpets a very unique showroom with an up to date selection of the very latest offerings in floor covering.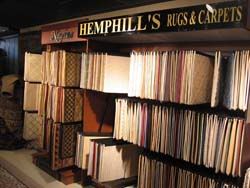 In our showroom, we have most of our rugs hanging on racks rather than buried in stacks. This makes it easy to view hundreds of different choices in a relaxed environment. Most of our area rugs come from the United States, Europe, India, Tibet, Pakistan, China and Malaysia. We have a wide selection of both hand knotted and machine made rugs. Thus, we have a nice variety of price points to fit most any budget.
Hemphill's carries trusted brands such as Karastan, Masland, Fabrica, Moda, Dixie Home, Stanton, Nourison, Kane, Godfrey Hirst, Camelot and Stainmaster... and limited distribution brands such as Feizy Rugs, Ralph Lauren Rugs by Safavieh, Ganghchen Carpets of Tibet, Liora Manne Lamontage Rugs, Richard Marshall Olde Boards, Moda Wood Floors and Rex Ray by Samad.
Shop online at http://hemphillsrugs.com/
"Green" products including wool, sisal, abaca, jute and seagrass from Merida Meridian, Design Materials, Fiberworks and Prestige Mills. Green Label Certified carpet from Stainmaster. Fabulously designed and crafted wool carpet from Bellbridge, Carousel, Concepts International, Missoni, Robertex, J. Mish, Woolshire, Unique Carpets and more.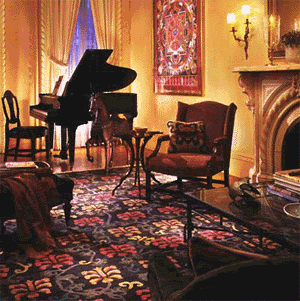 Hemphill's Rugs & Carpets has been featured on KCAL TV's Mendelson's Best Buys, written about in "Shopping Secrets of Southern California" and featured in various other print publications for both price and selection.
We have installed floor covering from San Diego to Palm Springs to Santa Barbara using our own talented crews. Our specialties include sisal and seagrass installation, custom wool broadloom with special border treatments and patterned carpet including woven axminster carpets.
Our selection of broadloom carpets, like our rugs come from around the world: United States, Holland, Belgium, Denmark, England, Switzerland and China.
Can't find it in stock - we can customize anything to your specifications. Ask about our Basket of Carpet Outlet Specials. Hemphills offers OVER 80 BRAND NAMES at discount prices.